Help The Team
SUPPORT THE TRAINING AND DEVELOPMENT OF ELITE ADAPTIVE SKIERS AND SNOWBOARDERS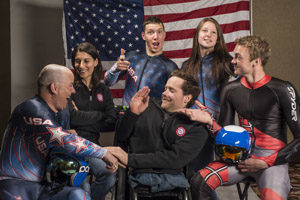 Donate
Would you like to help these athletes realize their dreams and keep the US National Paralympic Ski & Snowboard Team as the preeminent elite team competing for the USA in the world?
No Excuses Unlimited can accept your donation to the team. Your donation will help fund team initiatives such as travel expenses and training tools. All donors will receive a receipt for their contribution. Contributions may be tax-deductible. Please consult your tax adviser.
If you think this team deserves a bit of your hard-earned money, use the above button to donate any amount you want. There is no such thing as an insignificant amount! You can make a donation using your credit card quickly and securely online using PayPal. We chose PayPal because of its history of safety and technical ease. There is no worry about the security of your credit card information or the transaction. If you already have a PayPal account, it will prompt you to log in. However, you can donate very easily without a PayPal account.
If you prefer to pay by check, please send your check to:
No Excuses Unlimited
20 Dutch Creek Drive
Littleton CO 80123
You may also send an email inquiry to inquiry@noexcusesunlimited.org.
No Excuses Unlimited can also benefit from the donation of used cars. Donating your used car to charity is a win-win situation. No Excuses Unlimited gets your gift and you get a tax deduction! Please visit Vehicle Donation 101 to help you better understand the rules and process of vehicle donation.
Please check back to see other programs as they become available.
Save